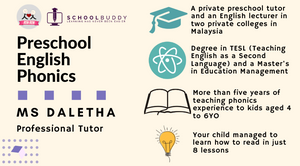 Preschool English Phonics (Beginner) 2023
Teacher: Ms. Daletha

Time: Every Friday 5pm - 6pm

Begins: 7th April 2023 (4 lessons/month)
Student count: 4 students
Course Description
This is a Phonics Beginner programme for children (aged 4-6) who do not have basic phonics experience or understanding. They will be exposed to individual sounds and blending of sounds. Each lesson will include a singing practice, writing and simple arts & craft.
Course Objectives
By the end of each month, your child will be able to identify at least four different sounds and blending simple words.
About 
Ms. Daletha
Ms. Daletha is a private preschool tutor and an English lecturer in two private colleges in Malaysia. She has a Degree in TESL (Teaching English as a Second Language) and a Master's in Education Management. Currently, she has a company called Happy FinLearn, which focuses on teaching and learning preschool subjects. She has more than five years of teaching phonics experience to kids aged 4 to 6YO. Her biggest accomplishment was when a child managed to learn how to read in just eight lessons!